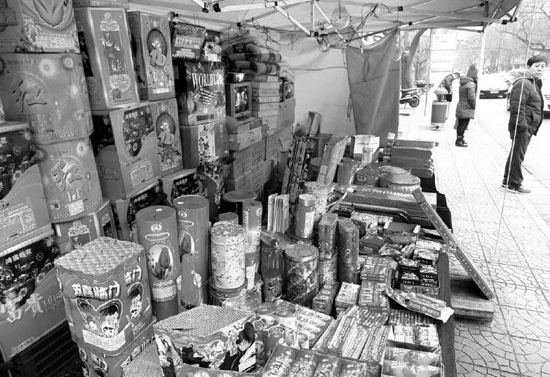 Before the Spring Festival, the newspaper advocate not shooting fireworks during Chinese New Year has received the support of many people. The Lantern Festival is coming, the Lantern Festival also been suggested that less blasting, blasting civilization. So how is fireworks retail business going this year? To this end, the reporter yesterday afternoon visited several retail outlets fireworks, fireworks found in this business is bleak.
Yesterday afternoon, the reporter visited Chan fireworks retail outlets at Ann Street Cross, filled with all types of fireworks, but few people interested. Mr. Chen also seems deserted stand business, chatting with people across the road. "Last year I went into the 30,000 RMB of goods, basically sold out at 5th of beginning year, this year the same is 30,000 RMB, but now I have not sold a third of that, the business too deserted.
Chen fireworks operators have more than ten years selling fireworks at Cross Street in Ann, and never encountered this situation. He said: "This year, the New Year does not advocate shooting, and now people have increased awareness, very few people buy guns now. children
playing gun business were very good in previous years, this year did not work, from before the Spring Festival already no longer marketable." Chen said after fifteen over, he will shut the shop immidiately, the rest of firecrackers have to deposited into the company.
The grocery shopping Mrs Zhang said: "This year fireworks business is indeed not very good, every day I pass though Ann Street Cross, clearly see business is deserted compared to previous years, but I do think that we should advocate no fireworks first. The blasting not only pollute the environment, the noise made ​​people uncomfortable as well, the Lantern Festival should advocate no fireworks as well ".Mr Fan said:" after all, the Spring Festival and the Lantern Festival are traditional festivals, fireworks and firecrackers have been spread for hundred years, to ask people not blasting is not realistic, but I hope those people who can civilized shooting, discharge to the specified location, but also safe!"