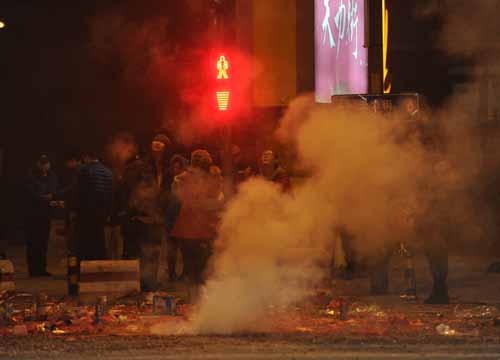 February 14, people play fireworks at East Third Ring Road in Beijing. That day was the Lantern Festival and Valentine's Day, Beijing shrouded in haze, the air heavily polluted. However, the streets are still heard the sound of firecrackers, fireworks interpretation town carnival night  
Foreign media noticed that air pollution in Beijing on the 16th eased two days after experiencing "dangerous" level, that heavily polluted part of reason due to the New Year holiday is traditionally used to mark the end of the fireworks caused.
"South China Morning Post" Website on February 17 reported that the Beijing Municipal Environmental Protection Monitoring Center, according to data on the website show that PM2.5 concentrations at noon near the center Tiananmen of the capital fell to 178, while in the previous 24 hours, the average concentration was 432.
February 14, there were 33 cities in mainland air quality index records are in serious pollution level. According to Xinhua News Agency reported, PM2.5 concentrations in eastern Tongzhou District, Beijing once reached 900.
Beijing announced last October, when issued a red alert warning that the highest pollution, it will activate contingency plans, including the reduction of road traffic and schools closed and so on. According to Xinhua News Agency reported that four of the lowest blue alert has been in force since the 15th
Government seeking to improve the quality of air and water in order to ease public discontent environmental degradation. Chen Jiping, executive vice president of the China Law Society, said pollution is one of the main factors affecting social stability in Mainland.
16-year-old Zhang Jiaxing building security said "Haze emissions caused by the factory and automobile exhaust, of course, if they are not the main reasons, the fireworks display on the air is not good for the air. government should strengthen the environmental protection industry, and investigate and punish factories that cause pollution.
According to the relevant department, said the mainland last 52 years, last year air pollution was the worst year.
Latin American Society on February 16 reported that environmental experts said Beijing urban air quality index in most areas over 300, up to six serious pollution levels. According to local media reports, such as pollution situation has been going on for at least three days.
Experts pointed out that despite the so-called contingency plans already formally promulgated and implemented since last October, which provides that the "red alert day" will be implemented in the vehicle odd and even number lines, schools, kindergartens will be closed in Beijing, the enterprises stop and so on "six stop" measures, but has not yet to implement any of these provisions.
This is not ideal air quality but also because of the traditional Chinese Lantern Festival encourage people not to give up the habit of fireworks become worse. According to statistics, the Lantern Festival fireworks discharge was twice the amount of the Beijing New Year's Eve.