Labor Day weekend SkyConcert fireworks display show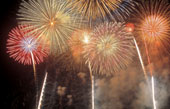 Location of fireworks display: West Palm Beach city
State:Florida
Date:7th Sept.
Show contact:Emmis Communications/317.266.0100
Event website:
Fireworks display company:

Details:
INDIANAPOLIS -- May 27, 2009: Emmis Communications won't be holding a Labor Day weekend SkyConcert fireworks show this year,
the Indianapolis Star reports
, breaking with a 26-year tradition.
Emmis was unable to find co-sponsors for the event to share the costs, though it did not say how much the show costs to produce.
"It's a very expensive event to put on, and we've always made it a free event," Emmis' David Edgar told the paper. "This year, because of the economy, everybody has been having difficulties, and we found it impossible to put together the funding it takes to put on this event."
The Star does point out that Emmis isn't alone, noting that Marsh Supermarkets, RCA, and SBC have also pulled out of Indianapolis events due to economic pressures.