Ahwatukee forth of July fireworks display fundraising deadline extended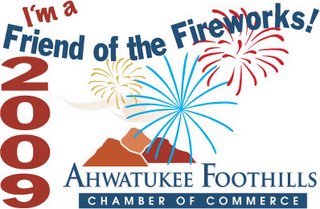 Location of fireworks display: Ahwatukee Country Club, 12432 S. 48th St.
City:Phoenix
State:AZ
Date:4TH JULY
Show contact:Ahwatukee Foothills Chamber of Commerce
Event website:
http://www.ahwatukeechamber.com/
Fireworks display company:
Details:Thousands of dollars short of what it needs for a Red, White and Boom Independence Day celebration, the Ahwatukee Foothills Chamber of Commerce has extended the deadline for accepting donations. The chamber had set a Friday deadline for donations for the event, which it hopes to host July 3 on the lawn of the Ahwatukee Country Club. But on Thursday, the chamber had just $14,000 of the $20,000 it needs to cover the cost of the event. So Terri Kimble, chamber president and chief executive officer, said the organization would accept donations on its Web site through this weekend instead of ending the fundraising effort Friday. Chamber officials will decide Monday whether they can afford Red White and Boom."Everyone thinks something like this just comes together - poof," said chamber treasurer Patty Durant, who on graduation night stood in the rain outside Mountain Pointe High School with her 7-year-old daughter and collected money in buckets."It doesn't. The chamber can't do it on our own. We need help from everyone." Durant said she and other chamber members also visited a number of Ahwatukee businesses last weekend, soliciting $25 donations in exchange for bumper stickers. Sponsors that donate larger amounts are to be acknowledged with banners and other recognition at the event. Fireworks shows at the Ahwatukee Country Club, 12432 S. 48th St., were a community tradition from at least the 1980s until 2005. That year, sponsors decided it would be easier to have the celebration at Rawhide. Officials at Rawhide, which is one freeway exit south of Ahwatukee on Interstate 10, say they still plan fireworks and other festivities on July 4. Earlier this year, some Ahwatukee residents circulated petitions that asked that the event return to the community. But will enough residents open their pocketbooks by Sunday to support the event? "We are at a standstill right now," Kimble said. "We will know by the end of the weekend.