MSU's Blakeslee Stadium Fourth Of July Fireworks To Fizzle Out?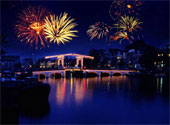 Location of fireworks display: MSU's Blakeslee Stadium
City:Mankato
State:MN
Date:night of July 4
Show contact:
Event website:
Fireworks display company:
Details: Summer is coming quickly... and with it, many area festivals.A lot of those festivals include fireworks... but that could soon change...And as News 12's Erick Lind tells us, it isn't just the economy that's to blame.Going to MSU's Blakeslee Stadium to take in the 4th of July fireworks is a tradition for many, but it's a tradition that could burn out.Greater Mankato Growth helped make ends meet for the event the past few years, but business sponsorships have faded, even with good economic times.G-M-G president and CEO Jonathon Zierdt says the reallocation of sponsorship dollars to other activities indicates dedicating dollars to the fireworks is no longer a prevailing priority.Zierdt says, "Certainly today's economy brings a sharper focus into what our priority is today, and makes events like this become even more challenged in these kinds of times."While Mankato, may be going without fireworks, Lake Crystal will be adding them to Duck Days.That's not the only changes the festival will see.The carnival that is normally here on Main Street will be replaced as well.Duck Days co-chair Susan Gangler says, "We did a survey after last year's event. A lot of people said they wouldn't miss the carnival and then if we added fireworks they'd be pretty excited about that."Gangler also says most carnivals need three days, but this year's festival will run just Friday and Saturday.In place of the carnival will be cost free activities put on by local businesses, which could actually bring in even more people.Duck Days co-chair Ann Lange says, "The free events are good for the families that can bring their 2, 3, 4 kids and spend the day together and not have to break the bank to do so."Breaking the bank is what Greater Mankato Growth is hoping to avoid after contributing 46-hundred dollars last year.But if someone new wants to step up and sponsor the fireworks, Zierdt says he would look to help them out.Zierdt adds, "Any solution that could potentially still have the event happen on July 4th, we're going to work with them to help make it happen."If that happens, the bursts may be lighting up the night over MSU once again this Independence Day.In Mankato, Erick Lind, News 12.