Cocoa Beach Annual Fireworks Display Show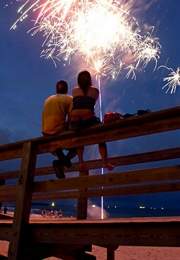 Location of fireworks display: City of Cocoa Beach
City:Cocoa Beach
State:Florida
Date:July 4
Show contact:City of Cocoa Beach Commission 868-3200
Event website:
Fireworks display company:
Details:
COCOA BEACH -- Fireworks will light up the sky again this Fourth of July if city officials raise more than $50,000 from businesses and residents.
A decades-long tradition that draws thousands to the beach, the display was canceled last year after the key sponsor cited skyrocketing costs and problems with securing a barge. The fireworks are launched from a barge near Shepard Park.
This year, Cocoa Beach officials cleared a major hurdle when they secured a Coast Guard permit for the barge, a new one owned by a local company.
"The barge has always been the long pole in the tent," Vice Mayor Kevin Pruett said.
But organizers still need help with most of the $55,000.
Pruett said raising the money is an "even longer pole." He said they'd be turning to the community.
The Cocoa Beach Area Hotel and Lodging Association has rallied its 15 member-owners to contribute more than $5,000.
"We think that it's a great community event for both the citizens and the businesses," said President Tom Williamson. "It's a tradition that needs to be maintained."
Pruett said many people complained last year about the lack of fireworks and City Hall has been fielding calls from people from out of town and out of state who want to know if the show will go on this year.
"The resounding comment I've heard is that in our community it's almost un-American to not have fireworks on the Fourth of July," he said.
The fireworks also were canceled in 2002, when the Coast Guard said it did not receive the application for the barge launch in time.