Fourth of July fireworks display in Fort Lauderdale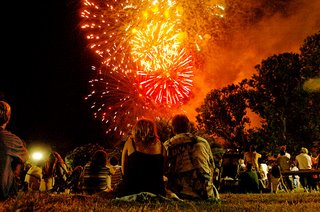 Location of fireworks display: Cape Coral Bridge and Cape Coral Parkway
City:Fort Lauderdale
State: Florida
Date:4th July 9:15 p.m
Show contact:239-549-6900
Event website:
http://www.fortmyers-sanibel.com/
.
http://www.cocoavillage.com/
Details:
The Fourth of July lands conveniently on a Saturday this year -- so it's easy to celebrate Independence Day with a trip to take in a variety of festivities that are featured in various parts of Florida.Here are some noteworthy ones:Cape Coral -- The Red, White and Boom Celebration on Cape Coral Bridge and Cape Coral Parkway (shut down between the bridge and Del Prado Boulevard beginning in the afternoon of July 4) offer entertainment on two stages. It's a street party expected to draw more than 50,000 people. Four bands will entertain and a children's carnival will keep youngsters happy. Vendors will sell food and beer and at dusk visitors will be able to watch fireworks over the river from land or boat. For details, call 239-549-6900. For information on Cape Coral and surrounding area, visit
http://www.fortmyers-sanibel.com/
.Cocoa -- Historic Cocoa Village puts on a free July 4th Celebration at Cocoa Village Riverfront Park Amphitheatre at 8 p.m. on July 4. The Brevard Symphony Orchestra will perform a patriotic concert and fireworks will begin at 9:15 p.m. as the orchestra continues to play simultaneously. Children's activities and food court will be available (nominal charge). Bring your lawn chair. Cocoa Village is in the restored downtown of Cocoa between U.S. 1 and the Indian River adjacent to State Road 520.Visit
http://www.cocoavillage.com/
.