Fireworks Display over Fox Lake Back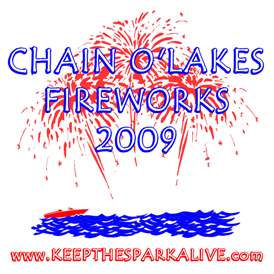 Location of fireworks display: Mineola Bay on Fox Lake
City: Fox Lake
State: Wisconsin
Date:July 4 Night
Show contact: Chain O' Lakes Fireworks committee
Event website:
http://www.keepthesparkalive.com/
Fireworks display company:J&M Displays Inc.
Details:
For 25 years, Fox Lake built a reputation as having one of the best Independence Day Fireworks displays in Lake County.
Organizers decided to no longer host the fireworks show over the water, and the 2008 show was moved to a 5-acre village-owned site near Rollins Road and the Fox Lake Wastewater Treatment plant.
Now, a group of boaters and fireworks enthusiasts have picked up the ball and are intent on returning the display over the lake.
Tim Triggs, spokesman for the new Chain O' Lakes Fireworks committee, said the explosions will definitely return on July 4 over Fox Lake, even though the fundraising events have not produced the revenue needed at this time.
"No matter what, there will be fireworks over the water on Fox Lake," Triggs said. "The goal of our committee is to have a large show that people will enjoy. But, if we can only afford a $10,000 show, then that's what we'll have."
Triggs said the new committee, made up of boaters who were upset when the fireworks were moved off the water in 2008, has obtained the permits needed to hold the display at dusk on Independence Day.
The reason for bringing the show back over the water is as much to attract business as it is for the fireworks, he said.
"For a lot of businesses, that was their busiest weekend on the Chain O' Lakes," he said. "Besides, watching the fireworks over the water is truly amazing."
The committee has received the go-ahead from all governing agencies of the Chain O' Lakes and the village of Fox Lake. It also has hired a fireworks company.
"We retained the same company that the former fireworks committee used," he said. "We have an open-ended contract in place, and they said they would work with us regarding the money situation."
Now, Triggs said, comes the need for money. Fundraisers held since February have produced $9,000, far short of the $35,000 goal the committee established, he said.
Worse, he said, the committee is running out of time.
"We have a couple of fundraisers scheduled where we hope to bring in as much as we can," Triggs said. "Plus, people can always donate straight to the committee."
Information about fundraisers and donations can be found at the committee's Internet Web site at keepthesparkalive.com.
Contact writer
-->