July 4 Fireworks Display Celebration in Lahaina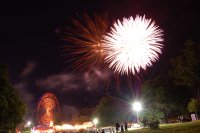 Location of fireworks display: Lahaina Town
City:Maui
State:Hawaii
Date:8 p.m. on Saturday, July 4
Show Contact: The Maui Chamber of Commerce 871-7711
Event Website:
Fireworks display company:

Details:LAHAINA - The Maui Chamber of Commerce is still several thousand dollars short of funding the annual July Fourth fireworks celebration in Lahaina, but it had accumulated enough donations on Friday to place a down payment for the fireworks.
The chamber credited businesses and individuals for their donations so far but especially thanked Tamara Barto, owner of Aloha Self Storage Lahaina, who increased her last year's donation by $1,500 to donate $5,000 this year.
"Aloha Self Storage Lahaina and the Barto family are such tremendous community partners and are committed to making this event happen," said chamber President Pamela Tumpap.
For at least a couple of weeks, the Maui Chamber of Commerce has been working at a frantic pace to gather $28,000 to pay for the fireworks. The chamber needed $14,000 by Friday for a deposit to order the fireworks.
Several more thousand dollars need to be raised to complete the $28,000 total, officials said. Donations are still needed.
An additional $10,000 will also need to be raised later to help pay for other costs of the celebration in Lahaina town that the chamber says is an important attraction to draw people to businesses in the town.
Until last year, the event was spearheaded by a local community organizer.
To make a donation or obtain more information, call the chamber at 871-7711.