Firewroks Display Show on Marine Corps Night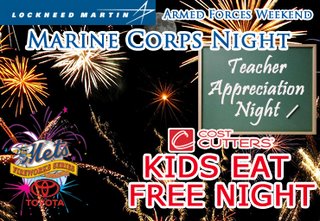 Location of fireworks display: NYSEG Stadium
City:
State:NY
Date:May 25, 6:35 PM
Show Contact: (607) 723-6387
Event Website:
http://www.bmets.com/viewarticle.asp?a=1750
Fireworks display company:
Details:
Fireworks and Kids Eat Free on Marine Corps Night5/24/2009 (Source: Binghamton Mets)Come out to watch the Binghamton Mets and a fireworks show. Kids Eat Free with the purchase of a full price ticket, and seniors can purchase 4 dollar tickets. Its another Big League Show at a Small Town Price at NYSEG Stadium. Find out more below...
Lockheed Martin's Armed Forces Weekend:At each of the home games of Memorial Day weekend, the B-Mets will honor a different branch of our military. Any active duty or retired veteran of the U.S. military is entitled to one free ticket to the game of their choice this weekend.