The Annual July 4 Fireworks Display in Norwich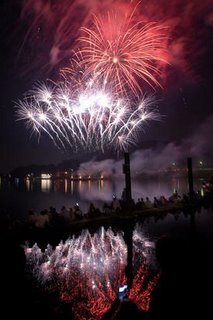 Location of fireworks display: Howard T. Brown Memorial Park
City:Norwich.
State: Conn.
Date: 9:30 p.m. July 4.
Show Contact: 860-886-6363
Event Website:
Fireworks display company:

Details: For decades, the annual July 4 fireworks show has drawn thousands to downtown Norwich. However, finances forced Norwich's 350th Anniversary Committee to drop the event this summer.But don't write off the spectacle just yet.The Norwich Fourth of July Committee is spearheading a drive to pay for the show. The group is asking for a minimum of 100 businesses or individuals to donate $350 apiece. It also is accepting donations of any amount from businesses, groups and individuals."We didn't want this tradition to disappear," said American Ambulance Vice President Greg Allard, who is coordinating the effort. "This year we're under some time constraints with only about eight weeks to go."The show would take place at 9:30 p.m. July 4.The annual event at Howard T. Brown Memorial Park brings thousands of people to the waterfront, Allard said. The total cost of putting on a show in previous years has been as much as $50,000, including $35,000 for the fireworks and the rest paying for permitting fees, the barge and insurance.Allard already has received calls and e-mails from about 10 individuals and companies pledging contributions. And he said Atlas PyroVision, its New Hampshire-based contractor, has been accommodating and is willing to cater a fireworks show to whatever funds the committee collects."They've been very open with us," Allard said. The American Group, which includes American Ambulance; and The Norwich Bulletin, are the leaders of the Norwich Fourth of July Committee.Gary Wolinski, co-president of Overhead Door Co. of Norwich, said his firm is donating $500."I was kind of disappointed when we found out it wasn't going to be part of the 350th birthday," he said. "I think it's critical to have it. You only have a 350th birthday celebration once."Wolinski said Overhead Door will celebrate its 50th anniversary in 2011."Norwich got us to this point and we're giving something back," he said.Not part of 350thThe fireworks show was still on the 350th committee's agenda at a Feb. 21 meeting, but in the committee's application to the Sachem Fund on March 25, it noted the fireworks had been dropped for financial reasons."The fireworks were tentative if we could raise the money," said Alderman Bill Nash, a member of the 350th executive committee.The fireworks faced a similar crisis in 2008, when Foxwoods Resort Casino pulled its funding. Still, 17 sponsors were able to help make the event go off before an estimated crowd of 25,000.