Queen Creek's Fourth of July Fireworks Display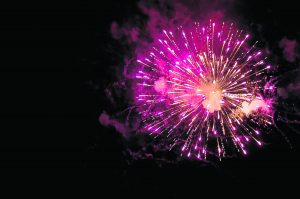 Location of fireworks display:
Schnepf Farms Town of Queen Creek
State: Arizona
Fireworks display date:4th of July
Show Contact: Kiwanis /
Kiwanis' Club of Queen Creek
Event Website:
Fireworks display company:
Deatails:
Queen Creek's Fourth of July fireworks are a go this year, although future displays are in limbo.
This year's fireworks have already been purchased, according to a report from Parks and Recreation director Debbie Gomez to the town's budget committee Tuesday.
However, future displays could be a challenge.
Queen Creek has proposed cutting $15,000 for helping nonprofit community events out of its budget. That money has traditionally been split evenly between London's Run, the Boys and Girls Club's Christmas parade and the Kiwanis Fourth of July event.
M&I Bank and the town are the two biggest contributors to the Fourth of July celebration. The bank has reduced its contribution from $5,000 to $1,000, according to the memo Gomez drafted after talking to the group's president. The Kiwanis Club hasn't received other donations for this year's event.
Funding reductions from the two biggest contributors could create a funding shortfall that prevents future celebrations, Gomez wrote.
There was some confusion at the last meeting over whether this year's event, which is four days into the new fiscal year, would be paid for by this year's or next year's funds. But this year's event is covered by the current fiscal year's funds, said assistant town manager Patrick Flynn.
The budget committee voted 2-1 to recommend the Town Council approve a $2,500 donation next year, plus in-kind donations. The reduced donation was contingent on the event going off as planned.
Vice Mayor Gail Barney, who proposed that funding level, was concerned the fireworks wouldn't happen if the town gave no donation.
But he was also worried the money could be used for other expenditures if the Kiwanis don't find other funds and have to end up canceling the show anyway.
"If they don't have the Fourth of July event, we don't participate," he said.
Councilman Jeff Brown dissented, proposing instead the town donate $1,000 to the Kiwanis Club for next year's show plus in-kind donations.
"I know it's a hardship, but the Kiwanis Club does have considerable time to raise those funds elsewhere," Brown said.
That recommendation will be forwarded to the full Town Council, which will approve a tentative budget May 20 and vote on the final budget June 17.