MALTA INTERNATIONAL FIREWORKS FESTIVAL APRIL 29 – 30, 2010

The Parliamentary Secretariat for Tourism and the Malta Tourism Authority will be organizing the 8
th
edition of the Malta International Fireworks Festival. The
Grand
Harbour
will once again provide the perfect setting for this event, which will take place on Thursday, April 29 and Friday, April 30.
The festival shall also form part of the 6th Anniversary Celebrations of Malta's accession into the European Union. (2004).
Participating in the festival will be numerous Maltese and two Italian Fireworks Companies. Orzella Fireworks Company of Rome will open the first evening on April 29. There will be numerous fireworks displays synchronized to music. This will be coupled with a variety of competitive displays by numerous Maltese fireworks factories. A fireworks display synchronized to music will close the event on each evening. One of these will be designed by the Santa Maria Fireworks Factory of Mqabba and the other will be designed by the Mount Carmel Fireworks Factory of Zurriq. On April 30, the world renowned Parente Fireworks Company of Italy will be closing the festival with its own grand pyro-musical display.
The best view points to enjoy the fireworks displays will be from Barriera Wharf on the Valletta sea front or else from on top of the bastions of the capital city Grand Harbour. For further and more updated information you may phone any one of these numbers: 22915440-1 or 23696073 / 4; email: info@visitmalta.com; website: www.visitmalta.com.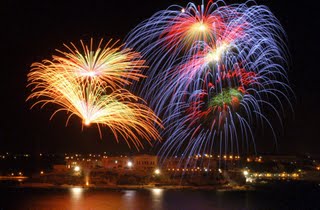 Tradition of Fireworks in Malta
Fireworks in Malta have a long tradition which goes back to the time of the Order of the Knights of St John. The feu de joie, the musketterija, the solfarelli d'aria, St Catherine's wheels (irdieden) and other forms of fireworks originated from explosives that were lit off from mortars as an expression of rejoicement on special occasions, such as the election of a Grand Master or a Pope as well as on the birth of a prince. This centuries-old tradition is still very much alive in the crowded calendar of village festas that take place all over Malta and Gozo.
For further update please visit www.visitmalta.com/events.
Malta
Fireworks Festival 2010
PROGRAMME
29th APRIL
21.00 hrs : Opening display by the Independent Fireworks Factory of Qrendi
21. 15 hrs : Grand pyro-musical display by Orzella Fireworks Company (Italy)
21.40 hrs : Maltese Fireworks Competition
Three competitive fireworks displays by Maltese fireworks factories:
· Lourdes Fireworks Factory – San Gwann
· St Nicholas Fireworks Factory – Siggiewi
· La Stella Fireworks Factory – Gudja
22.15 hrs : Grand Pyromusical Display by Santa Maria Mqabba
30TH APRIL 2010
21.00 hrs : Opening display by the Independent Fireworks Factory
21. 15 hrs Grand pyro-musical display by Mount Carmel Fireworks Factory
(Zurrieq)
21.40 hrs : Maltese Fireworks Competition
Three short competitive fireworks displays by Maltese fireworks factories:
· The St. Mary Fireworks Factory – Mgarr
· St. Bartolomew Fireworks Factory – Gharghur
· St. Mary Fireworks Factory - Ghaxaq
22.30 hrs : Grand Pyromusical Display by Parente Fireworks Factory (Italy)
END OF FESTIVAL PROGRAMME
posted by Dominator Fireworks at 6:53 AM