The 8th Malta International Fireworks Festival (30 April and 1 May, 2009)
Fireworks Display Location: Grand Harbour, Malta
Ta' Liesse / Barriera Wharf and the upper reaches of the bastions that surround Malta's capital, with their commanding views over Grand Harbour, are the best locations for viewing the displays.
Date: 30 April and 1 May, 2009
Show Contact: Malta Tourism Authority
Event Website: http://www. independent . com.mt
Fireworks Display Companies:
The participating local firework factories are:
Lily Fireworks Factory – Mqabba; Lourdes Fireworks Factory – Naxxar; Mt Carmel Fireworks Factory – ¯urrieq; Our Lady of Consolation Fireworks Factory – Gudja; San Bastjan Fireworks Factory – Qormi; San Bert Fireworks Factory – Gharghur; San Mikiel Fireworks Factory – Hal Lija; San Nikola Fireworks Factory – Siggiewi; Santa Marija Fireworks Factory – Ghaxaq; Santa Marija Fireworks Factory – Mgarr; St Andrew Fireworks Factory – Luqa.
Participating foreign pyrotechnic companies: Proformance Pyrotechnics – Australia; Vaccalluzzo Zio Piro – Italy; Nakaja Art – Poland.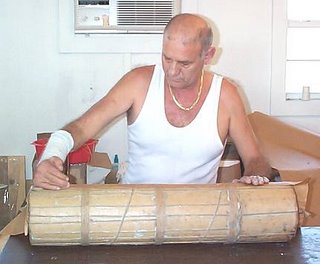 Benjamin Farrugia of Malta works
on an eight inch diameter four-break shell that weighed 70 pounds. (32 KG)
Details:
The skies over Grand Harbour will once again be ablaze with the colours of various fireworks displays. The eighth edition of the Malta International Fireworks Festival organised by the Parliamentary Secretariat for Tourism and the Malta Tourism Authority, will take place on Thursday 30 April and Friday 1 May. This spectacular festival is part of the commemorative events that celebrate the fifth anniversary of Malta's accession to the European Union.
Twelve local fireworks factories and three foreign companies will provide the fireworks displays over the two evenings. The festival will start each evening at 9.30pm with a 15-minute fireworks display by a foreign pyrotechnic company. This will be followed by a set of fireworks displays by local factories in a 'one by one' competitive series of displays. This is meant to involve, more than ever before, local pyrotechnic enthusiasts. A trophy, as well as prize money will be awarded in each category. A fireworks display synchronized to music will close each evening's event.
For the convenience of the public, ADT have extended the scheduled bus service until 12.30am on Thursday April 30 and till midnight on Friday 1 May.