Fun and Fireworks:Fourth of July celebrations are abundant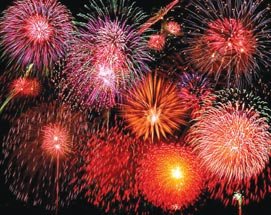 By:
Shane Arthur
It's easy to forget the Fourth of July is about more than just watching fireworks and drinking. In reality it is a day of remembrance for our ancestors who stood up for their freedoms in order to make a better country for the future. America has had its ups and downs, but the good old U.S.A. still remains as a gift from those founding fathers to us, their children—and for that we should be grateful.
Our country today is very much changed from what it was in its infancy, with new leadership, larger threats and fragile industries—but that is all the more reason that Independence Day should be a day when we set aside the individual and come together out of respect for the greater good. To be in Wilmington, North Carolina, celebrating on the same ground—and water—that was once known as part of the 13 colonies is truly something special. There can be few events more wonderful than spending the evening of July 4th lying on the deck of a boat, staring up at shining stars and fireworks, with friends and family all around, each one celebrating freedom in their own unique ways. Here's how Wilmington can celebrate American independence this year:
Battleship Blast and Riverfront Celebration. Come see one of NC's biggest fireworks displays at Wilmington's 13th annual Battleship Blast, taking place along the Cape Fear River above the Battleship North Carolina. Beginning at 9:05pm, the fireworks can be viewed from most anywhere downtown. Tours of the battleship end when Eagles Island closes to the public at 6pm. WGNI 102.7 FM and WECT TV 6 will be covering the performance live. Food and music will be made available by the 440th North Carolina National Guard Band in Riverfront Park on Water Street from 5 to 10pm.
For parking information call 910-341-4602. Details about the Battleship Blast can be found by calling 910-251-5797 or visiting www.battleshipnc.com. For the Riverfront Celebration, contact the Recreation Division at 910-341-7855.
Fourth of July River Cruises. View the fireworks from the deck of the famous Henrietta III riverboat on a three-hour tour from 6:30-9:30pm. In addition to the show, a dinner buffet will be included on board. Pre-paid reservations are required—tickets are $59. Boarding begins at 6pm from the riverfront dock located at Water and Dock streets. For more details call 800-676-0162 or visit www.cfrboats.com.
The Winner Party Boat departs from the Carolina Beach Marina at 6:30pm to sail across the river for a great view of Southport's fireworks. Pre-paid reservations required for admission. Call 910-458-5356 or surf over to www.winnerboats.com for more information.
Pleasure Island Fireworks Display. In addition to the usual free fireworks held every Thursday in the summer months near the Carolina Beach Boardwalk (with the exception of the week of 4th of July, when they will be held on Friday), Pleasure Island will also be having a special Independence Day fireworks display July 3rd at dusk. There will also be live music by classic-rock band Machine Gun at the Gazebo Stage located on Cape Fear Boulevard from 6:30-9:30pm.
And don't forget all of Pleasure Island's other attractions, including Carolina Beach State Park, the Fort Fisher State Historic Site and the NC Aquarium next door. There will be a free family movie (Madagascar: Escape 2 Africa, PG) on Sunday evening, July 5th, at Carolina Beach Lake Amphitheater. For more details call 910-458-8434 or browse www.pleasureislandnc.org .
Red, White and Blues Festival at Hugh MacRae Park. On July 4th from 12-3pm, Hugh MacRae Park (on the corner of Oleander and College) will be the site of a celebration that includes games, a 50/50 raffle and a music performance by Ten Dollar Thrill (winners of the 2008 Cape Fear Blues Challenge). Picnics and coolers are welcome, but limited to nothing stronger than beer or wine. No glass allowed. For more information e-mail cf.fairtax@gmail.com.
Cucalorus Membership Drive. The Cucalorus Film Festival is launching its 2009 membership drive with a Fourth of July celebration and Filmmaker Appreciation Day. The kickoff event will be held at Jengo's Playhouse and will include food, fun and music. Local filmmakers will have the exclusive opportunity to submit their entries for the 15th annual festival.
Filmmakers that become members of Cucalorus on July 4th will be allowed to submit up to three films without paying an entry fee. The event will culminate in a bike parade from Jengo's to the Cape Fear River to join ongoing downtown festivities and fireworks. For more information contact Dan Brawley at dan@cucalorus.org or 910-343-5995.
Southport 4th of July Celebration. Fourth of July in the Cape Fear region would not be complete without the famed North Carolina 4th of July Celebration. Still going strong after 37 years, the festival takes cues from the very first Independence Day festival in Southport 214 years ago: "The Festival of Free Men." The community at large has kept the spirit of freedom alive and well ever since, and today the festival draws in participants from near and far.
Running from July 1st-4th, the festivities begin with Beach Day on the 1st and end with fireworks on the 4th, encompassing an array of activities in between. Events in which to partake and enjoy include the signature 4th of July parade, a Veterans Recognition Ceremony, flag ceremonies, live music by the waterfront, art and crafts, the Freedom Run and Walk, a Naturalization Ceremony and more. For more details, visit www.nc4thofjuly.com .
http://www.encorepub.com/articles.php?i=read&article_id=612&section_id=3