Don't get BURNED: Fireworks safety a must, especially over the July 4 holiday season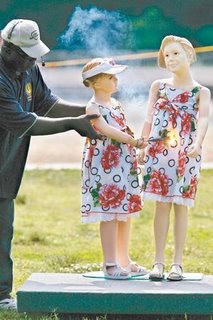 By JARED ORZOLEK , orzolek@crescent-news.com
Experts are encouraging area residents to be cautious when using fireworks during the July 4 holiday season as hundreds of people are treated in emergency rooms nationwide each year for injuries associated these devices.
According to the Ohio fire marshal's office, the only types of fireworks that can be legally purchased and discharged in Ohio are trick and novelty devices that smoke, sparkle or snap.
Napoleon Fire Chief Bob Bennett said even these devices should be treated with common sense and respect.
"They should be very careful and adult supervision should be involved. Sparklers burn at nearly 2,000 degrees," Bennett said. "Pay attention to the ground conditions. We don't need any grass fires."
Other fireworks -- even those purchased at stores in Ohio -- cannot be legally discharged in Ohio.
"You must be at least 18 years of age to buy items such as firecrackers and bottle rockets at the stores you see along the roadways of Ohio," Donald Cooper, interim state fire marshal, said in a press release, "but firing them off within state boundaries is prohibited."
Under state law, stiff penalties can be applied for the illegal possession or discharge of fireworks. It is a first-degree misdemeanor for non-licensed individuals to set off fireworks in Ohio, to falsify an application when purchasing fireworks, or to possess them for more than 48 hours without taking them out of state.
First-time offenders are subject to a maximum $1,000 fine and six months imprisonment.
The U.S. Consumer Product Safety Commission estimates that in 2007, nearly 9,800 people were treated in emergency rooms for injuries associated with fireworks.
More than half of these injuries were burns, and most involved children ages 10-14.
"The best way for Ohioans to prevent fireworks injuries is to attend a licensed, professional fireworks exhibition," said Cooper. "Keep in mind that even trick and novelty fireworks, like sparklers, are inherently dangerous and can cause serious injury."
Cooper recommends the following safety tips for those using legal fireworks in Ohio:
-- Handle and discharge trick and novelty devices only under adult supervision.
-- Carefully read and follow label directions on trick and novelty device packaging.
-- Light only one sparkler at a time and hold it away from the body and other people.
-- Sparkler wires should be placed in a bucket of water to avoid injury as they remain hot for a few minutes after burnout.
-- If a person is burned, run cool water over the wound for two or three minutes and seek medical attention when necessary.
Local professional fireworks displays are scheduled for Friday in Defiance and Saturday in Napoleon.
http://www.crescent-news.com/news/simple_article/4620257