Dominator Fireworks is a member in good standing of the American Pyrotechnics Association and is a strong supporter of the mission of the APA.
The APA is the premier trade association of the fireworks industry and was founded in 1948 with three principle aims:
To encourage safety in the design and use of all types of fireworks.
To provide industry information and support to our members.
To promote responsible regulation of the fireworks industry.
The APA has conducted a very important analysis of usage of fireworks and injuries over the last 10 years. The results show that consumer fireworks use has risen dramatically during that period while injury rates measured against consumption have fallen.
Consumption of fireworks in the United States has risen dramatically over the past two and a half decades, from 29 million pounds in 1976 to over 281.5 million pounds in 2005. While the industry has seen an 870.7% increase in fireworks consumption per million pounds, there has been a 90.1% decrease1 in fireworks-related injuries per 100,000 pounds.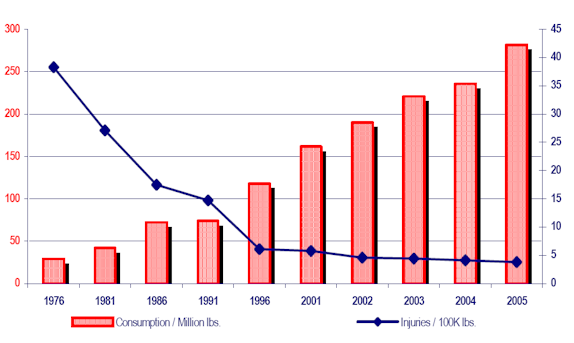 1 1976 fireworks-related injury rate was 38.3 per 100,000 pounds, compared to 2005 rate of 3.8 per 100,000 pounds.


For this and other important industry information, please visit the APA website.