2008 PGI - 14 ft Girandolas and 24 in Shells!!
The 2008 Pyrotechnics Guild International Convention was another great week of pyrotechnic innovations, outstanding competition and all around good times.
I would like to share two very unique highlights for me, first is Tony Stader's 14 foot Girandola, next is the firing of two 24" shells from Dominator's exclusive 24" Fiberglass Mortar.
Tony Stader is a close friend and someone who I admire for his innovation and professionalism. Tony is always pushing the envelope but doing so in a very calculated and controlled manner.
This year Tony brought a 14 foot Girandola to the convention, and everyone had to ask him, "Tony do you really think that thing will fly!?". Well, fly it did and excatly as Tony had predicted it would. You see, Tony had measured the thrust profile of each of the drivers and knew that it would jump off the launch pad. The drivers reached maximum thrust almost immediately and then trailed off for the planned parachute decent.
The Girandola spun up as planned and then shot off the launch pad, but its huge surface area caught the wind and it started to veer towards the grandstands. The parachutes deployed but it seems two of them got tangled and the giant started to head towards the grandstands with the silver gerbs still burning. With a stroke of good luck the Girandola flew right past the grandstand landed almost with-out any damage in a 20' x 20' spot in the parking lot, never touching anything but the ground.
Video of 14 Foot Girandola Flight
Matt Roach, Tony Stader, and Chuck Stankus proudly display their trophies.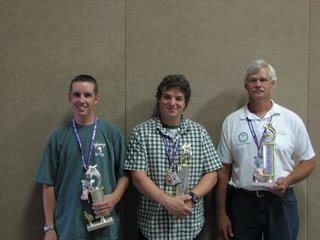 14' Girandola: Ready for launch
Construction Details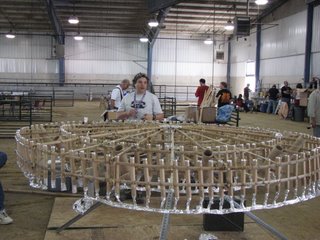 Another highlight for me was Ace Pyro's firing of two 24" shells from one of Dominator's exclusive 24" fiberglass mortars. When Aaron Enzer came to Dominator more and asked if we could build a 12 foot long 24" fiberglass mortar, we did not know how to respond... turns out no one had ever built such a large fiberglass mortar before. We did some research and found that 24" fiberglass tubes have been made in China for their space program. So with a little research and planning we set off to build the largest fiberglass mortar ever made! By April 2008 we had three mortars built and on their way to Aaron.
Video of 24" Mortar being loaded at Dominator Factory in Liuyang China
Labels: Dominator 24" Mortar, Girandola, PGI
posted by Dominator Fireworks at 10:03 PM