The Unofficial Information Page of the 2008 Beijing Olympic Fireworks!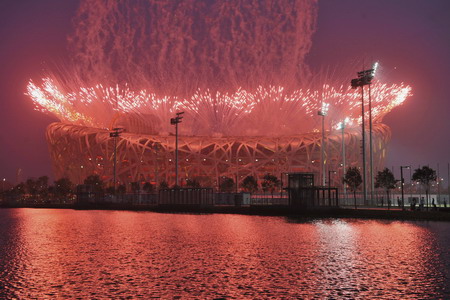 Fireworks over the National Stadium, also known as the Bird's Nest, during a rehearsal for the opening ceremony of the 2008 Beijing Olympic Games July 16, 2008.
The 2008 Beijing Olympics is sure to have some stunning fireworks and Dominator Fireworks has been working hard to uncover information about the Olympic Fireworks displays for your information. The details of the fireworks have been kept very secret but several Dominator Affiliate Factories are busy making product for the shows so we are able to provide you with behind the scenes information.
Display Times:
Olympic Opening Ceremony: August 8th, 2008, at 20:08
Olympic Closing Ceremony: August 24th, 2008, at 20:00
Paralympic Opening Ceremony: September 6th, 2008 20:00
Paralympic Closing Ceremony: September 17th, 2008 20:00
Displays will also be held in the following locations:
Tian'anmen, Yongdingmen, Shenshahai, Tuhai, Olympic Park
Chief Designer of Beijing Olympic fireworks:
Fireworks Overview and Special Effects:
The opening display will be divided into three three main portions, each shot by one of three display companies that were chosen through a competition and through their ability to positively influence the Olympic Fireworks Committee.
The largest shell to be fired is 12 inches.

All fireworks are Made in China, with the majority made in Liuyang and Jiangxi

The requirement is no fall-out so inserts such as Torbillions, or whistles will be used.

In an effort to reduce smoke so called "green fireworks" have been used. It has also been reported that the Disney Air Launch technology will be used. From our research, air launch will not be used. However, the Magic Fire Computer Chip will be used for more precision firing of the shells. The "Green Fireworks" will be limited to the use of Nitrate lift charge to cut down on smoke production.

There will also be "cold fireworks" which are traditional indoor style nitrocellous based effects.

3" shells are required to shoot to a height of 50 meters, so longer mortars are being used to achieve the extra height.

The fireworks of the opening ceremony cost 9 million RMB (1.3 M USD). The performance of the closing ceremony will have more than 10 places, each one 0.6 million RMB ($90,000 USD).
One portion of the display fired by one of the three companies will use the PyroDigital Firing system developed and sold by our close friend Ken Nixon. This portion will last about 20 minutes and feature approximately 1,000 shells, 2,500 cakes and several thousand single shot candles.
One special effect reported is the Olympic Rings in a single 12" shell. It is also reported that this effect will be produced from several smaller shells shot from a cake.
One Dominator Affiliate Factory is producing the following effects:
8 seconds flash, 20 meters sky waterfall, ,300 meters meteor, and 6 meter effect handle fountain.
More Photos!