Living The Dream In Liuyang China!
Ever since I was a kid, I have always dreamed of running a fireworks business. I remember telling my grade school teacher that I wanted to be a "Pyrotechnician" during career day and then mistakenly being taken over to the local fire department booth… no I did not want to put out fires, I wanted to start them!
Having been in the fireworks business for more then 20 years and having lived and worked in China for a large multi-national company and having Chinese Family, I knew a thing or two about fireworks and doing business in China. Therefore, I started Dominator Export Fireworks Company. We are based in Liuyang, China and we are a manufacturing and export company. We make everything from the smallest consumer fireworks to the largest professional display fireworks.
I would like to take this opportunity to give you a snapshot of running a China based fireworks company, and to living for most of the year in the fireworks capital of the world, Liuyang, China.
Liuyang currently produces about 65% of the world's fireworks. One common misconception is that each "brand" of fireworks is equal to one "factory". In fact there are over 1,000 factories, each specializing in a specific type of fireworks production, therefore there are factories making only sparklers, only firecrackers, etc. To support these factories, Liuyang also has supporting manufacturing such as paper mills, chemical processing, fuse factories, printing factories, and a highly skilled fireworks workforce. This critical mass of factors makes Liuyang the most economical place on earth to manufacture fireworks. Add to this the support of the local government and you have a very fireworks friendly environment!
Dominator Class C Cake Factory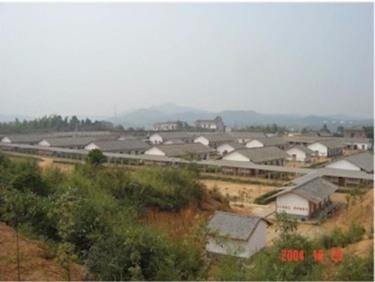 Pattern Shell Manufacturing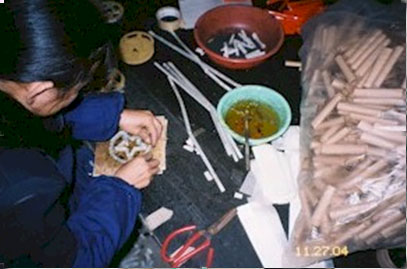 Photo at Visco Fuse Factory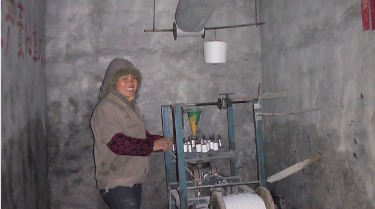 On any given evening in Liuyang, the booms and bangs of customer demonstrations can be heard across the city. Need to test a few Roman Candles before your flight back to the USA, no problem, just stop on the side of the road and light them up!
My time in Liuyang is split between research and development of new products, managing the daily demands of production, and hosting the many customers that come to Liuyang to view the latest fireworks and inspect their production.
Harry Gilliam of Skylighter Fireworks at the sparkler factory and inspecting product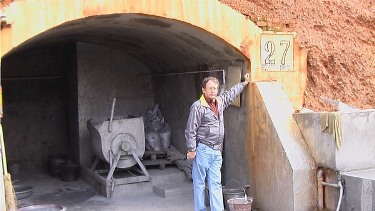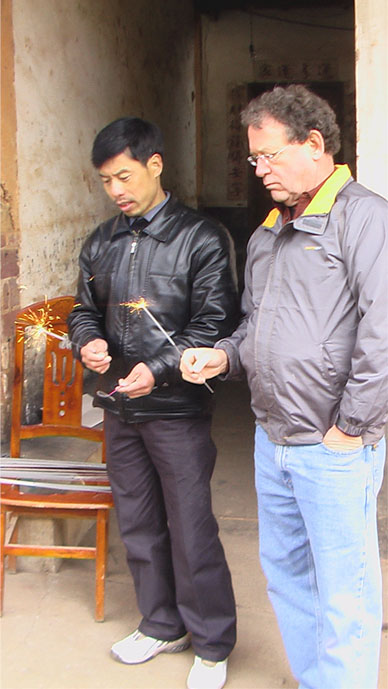 Harry Gilliam and drying morning glory sticks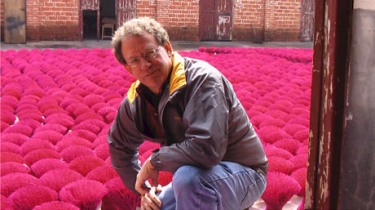 One exciting product development effort that was commissioned by Aaron Enzer of Ace Pyro LLC is the production of several 12-foot long, 24-inch fiberglass mortars. Aaron is a master shell builder and is planning to begin producing US manufactured 24-inch shells. In order to shoot these monsters he will need some mighty big mortars. We have undertaken to produce these mortars with fiberglass composite construction, rather then the much heavier and more expensive steel construction. Construction of such a large mortar has many development challenges and our largest current mortar is 16 inches in diameter. Our first challenge was the construction of a huge mandrel, which the composite fiberglass tube will be wound on. . Special heaters will be installed in our production facility to ensure even drying of the fiberglass in the cold and damp environment of Liuyang. The final challenge will be devising a mechanical press to remove the finished mortar from the mold.
24 inch mortar mold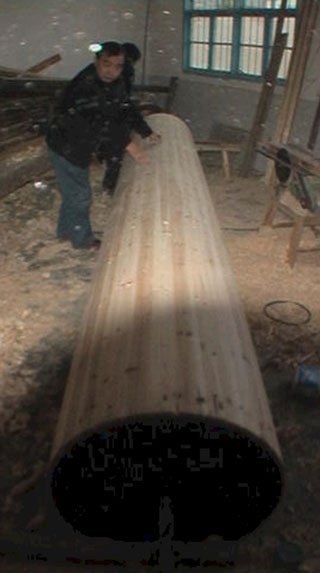 Another interesting project that we just finished was for Dennis Coster of Fireworks Productions, Inc. Denny runs a large Class B display business and serves on Committee for the American Pyrotechnics Association. Recently there have been some concerns over the classification of popular professional salute cakes as 1.1G. This classification would make storage of them cost prohibitive and most likely would mean the use of these popular cakes could no longer continue in the USA. Denny asked if there was any way that we could help him to conduct a preliminary test firing of bulk salute cakes to simulate an fire in a typical fireworks warehouse. If we could prove that the cakes burn rapidly, and do not detonate, then maybe the APA would have some leverage in their negotiations. We gladly took on the challenge as igniting a huge stack of 2.5 inch 36 shot salute cakes sounded like a lot of fun. The requirement that Denny set out was a stack of 27 cakes surrounded by a plywood box with the ignition to the center cake. We built the cakes, but then started to think about where we were going to do the test firing. 500 grams of powder is the maximum allowed for any consumer fireworks device. This stack of salute cakes was to contain 87,480 grams of flash powder! With this huge amount of explosive power, we set about with the help of the local government to find a suitable location. After several days of searching, we found the ideal location, a rice field with large earth embankments on one side. We set up the test and retreated to a safe distance behind the embankments. The result of the test was as we had hoped, the cakes when off with a huge roar, however they burned rapidly, they did not mass detonate. Standing several hundred feet away the explosion was spectacular and even a hardened pyro such as myself was intimated by the shear power. This was a great reminder for me to always maintain the utmost respect for the power of fireworks. Photos and video of this test can be viewed at http://www.dominatorfireworks.com/76pyro.html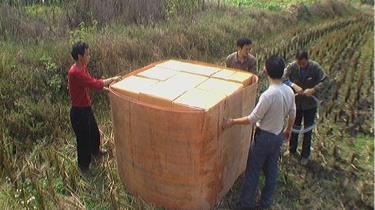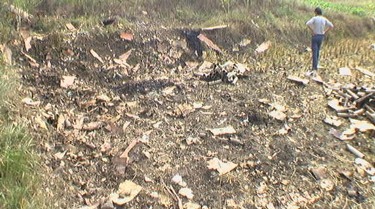 Many importers will visit Liuyang in October. There are several reasons for this, this is the time to begin to place orders for the upcoming July 4th season, the weather is best this time of the year, and this also the time for the bi-annual Liuyang International Fireworks Festival. This year's festival was bigger then ever and big is the key word for what much of the festival strives for. There are several nights of fireworks with an international competition being held one of the evenings. In addition to the fireworks, there are also informative meetings held throughout the week. This year, to help draw attention to Liuyang, the city organized an attempt to break the Genesis book of world's records for the longest firecracker string. The string was 12.5 mile (20km). A total of 35 fireworks factories in Liuyang city worked together to create the firecrackers at a cost of about $100,000 USD. The string took about 90 minutes for all of the firecrackers to explode. Chinese are frequent and enthusiastic users of firecrackers during traditional festivals, especially the Lunar New Year holiday, which falls next year on Feb. 7. They are traditionally believed to scare away evil spirits and bring good fortune.
Photo with Guinness World Record Team, David, & Marc of Lews Fireworks, Watertown, SD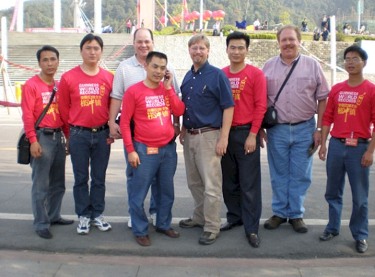 I hope that you enjoyed this insider's view of the world's fireworks production center. Liuyang and the global fireworks industry are facing many changes in the coming years. With raising global fuel costs and China's booming economy, cost increases in China are threatening to change the very nature of the fireworks business. It is unclear where these changes will lead fireworks, but one thing is for certain, we view all change as opportunity and will work hard to help bring new innovations that will help fuel your passion for fireworks.